Take Charge of Your Federal Career
Paperback || 224 pages || ISBN: 978-0-943641-27-8 || $29.95
The second edition of Take Charge of Your Federal Career is a practical, action-oriented career management workbook for federal employees. Packed with proven tips and valuable assessment and evaluation tools. This unique workbook provides federal workers with the individualized know-how and guidance they need to identify, obtain, and successfully demonstrate the skills and experience required to qualify for new and better federal jobs.
If you prefer a workbook that you can take notes in and read at your leisure, pick up a copy. This workbook is specifically designed to complement this website.
You'll learn how to design a career development plan that includes:
Self Assessment
Locating Job Opportunities and Career Enhancement Details and Assignments
Setting Realistic Goals
Develop a Realistic IDP for Targeted Goals and Positions
Networking Techniques
How to Complete a Dynamite Application
Interviewing Techniques, and
How to Stay on Track.
Available through Amazon.com or at your local bookstore.
Workbook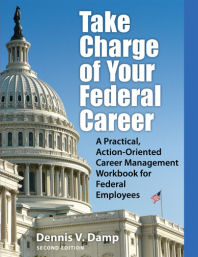 Available at Amazon.com & bookstores.